 SEO & Search Engine Marketing
.

Are you looking for website marketing or search engine optimization?

We offer search engine optimization and marketing for local service businesses and other localized businesses. With over 10 years of collaborating with an online and Google specialist, we have created packages for the best search engine marketing for you.
Not all marketing efforts will work for every business. It's easier to optimize a local service business for search engines than a nationwide product. Also the age of your website and quality of your domain will make a difference in organic ranking.
A well coded website is the base for good seo. Starting with the responsive structure, naming conventions and text formatting together with most common accessibility techniques, we lay the groundwork for your website to be search engine friendly and we will implement meta tags and keywords in your website to optimize your ranking.
Free basic search engine optimization with every custom website.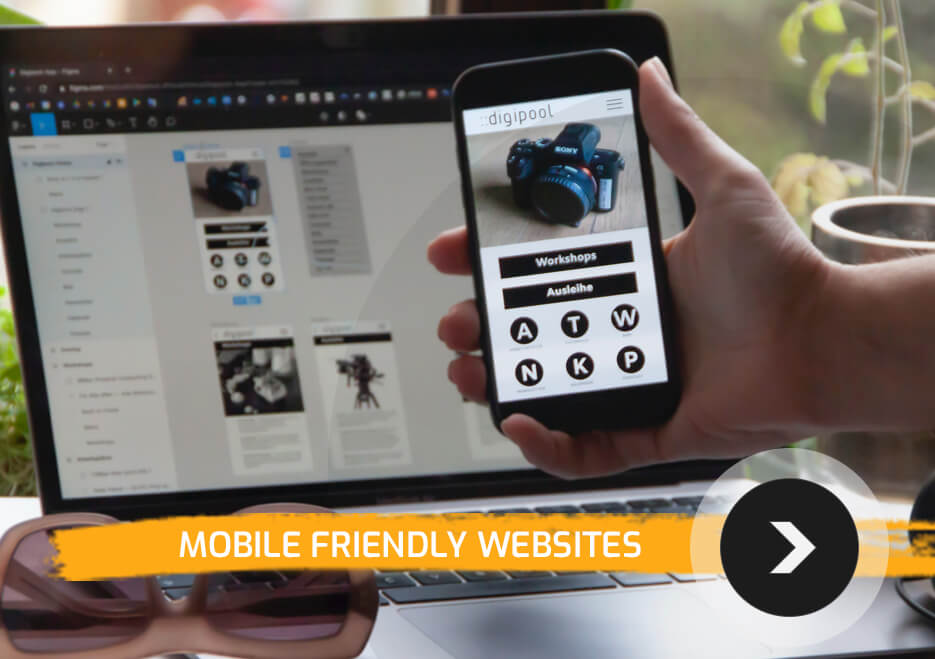 What is the difference between seo and sem
?
Seo stands for search engine optimization and is mostly meant when describing organic placement on search engines ranking system. It involves working with your existing website and content by inserting keywords throughout the content, tagging images and adjusting meta title and descriptions for all the pages.
Search engine marketing is a combination of search engine optimization with the ongoing creation of content as well as paid search campaigns, directory listings and more.
Getting to a good Google ranking is only your first step. As Google keeps changing their algorithm to serve more relevant and content driven search results, it's imperative to have the right and valuable content. Fresh and relevant content is the key to maintain your page ranking and grow your search engine visibility.
Our search engine marketing package is done through our Google recommended partner. While we make sure all content is looking nice and is tagged properly, our partner stays up with all the Google updates and manages the pay-per-click campaigns and works with us to match your site content to the ads which reduces the cost of the clicks.
Monthly packages starting at $700. Month-to-month. Cancel anytime.
Monthly Blog Posts
Content Writing
Graphics Creation
Survey and Review Management
Directory Listings
Social Media Postings
PPC Management
Video and Display Ads
Call Tracking
Live Chat and more Online Marketing Company Vista
Let us help you with your online marketing. We can help recommend you the best option for your kind of business. Whether you want to work on your organic search or go with the full marketing program, we will work with you on your marketing needs.
4 Solutions:
Optimize existing webpage
Optimized landing pages for local targeted services
Basic SEO Content Marketing/Social media
Monthly Search Engine Marketing Packages
Get organic placement with localized landing pages
Don't leave it up to chance. PPC campaigns are the only guaranteed way to place Page 1.
Busy running your business?
We know how hard it is to find the time to write new content and blog posts, even if you actually enjoy writing. That's why our search engine marketing programs include writing and posting your articles to your blog as well as your social media pages.
Long Term Organic Placement
With most marketing programs you are only benefiting as long as you are paying for it. Part of our monthly programs include building strong locally targeted landing pages that help increase your organic standing. Local landing pages are not only extremely successful for Google ranking but also for customer conversions.
Directory with Review
Our directory listing services not only look great but also enable you show your services and products and reviews which creates valuable back links to your website and your services. Keyword and tagging enabled directory listing that syncs with many of the available other directories.
AdWords – Pay-Per-Click Campaigns
Sometimes organic search engine optimization is simply not enough. If your competition is very aggressive with seo and marketing campaigns or their website is 100 pages deep versus your 5 page website, it is very hard to come up on top of Google.
We have partnered with a Google Recommended SEM Company to manage your pay per click campaigns.
Contact us to learn more about our search engine optimization and marketing programs.
What is Search Engine Optimization?
For most people seo is some kind of dark art, some well protected secret only known to the most privileged few. Everybody knows about keywords and meta description but what else is there to it?
Search engines like Google and Bing are not the actual internet but a collection of information in a database. Frequently, spiders – robots are searching the Internet and indexing the websites into their database. In order for the search engines to find our websites, we have to help them find us with some meta information and valuable content. Search engine optimization is a combination of meta information, linking strategies, keyword density and valuable content.
What you can do to improve your standings:
While doing basic search engine optimization can be very successful for some businesses, depending on your competition and location, you will have to work a little bit harder to come up and more importantly stay up there.
With Google constantly trying to make search results more relevant and content driven, the only successful lasting strategy is to provide the consumer with relevant information about your services, business and keep your content fresh and updated.
Content management systems are the ultimate platform for keeping your content fresh. A content management or cms is a website that allows you to change content on your website or run a blog. Because of the ease of adding new articles, photos and other information without having to rely on your web designer, content management systems tend to be the best way to go for optimal seo.
---
Relevance.
When writing your content try to use words that are appropriate to describe your business and services. Use the keywords preferably in the first paragraph of your page copy. While you want search engines to find you, think foremost about your readers.
If I'm looking for information about custom web design, I don't want to land on a page about website templates. Landing on a non-relevant page, is not only wasting my time but can also be costly if you are running a pay-per-click campaign. If the information somebody is looking for is not immediately visible, the chance for the visitor to leave your site is very likely.
Landing Pages.
You might have heard about landing pages but what are they? Landing pages are pages on your website that create a different entry point to your website other than your homepage. A landing page is a page with information about 1 subject and is seo optimized for just that subject. When somebody searches the internet for this subject, they will land on that particular page which is relevant for what they were looking for in the first place and have a high conversion rate. If you have a service business, we recommend having a landing page for each of your main services.
Read more about content considerations you should make.