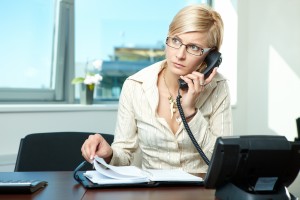 Google Telemarketing Calls
If you own a business that is listed in business directories and/or have a website, you have probably gotten a phone call from people claiming to be Google. They claim they are calling to verify your business listing. Some of them say that they will remove your business listing, unless you pay a certain amount for that.
Google is a search engine which mainly functions to provide relevant and accurate results for the people using it. Google will not call and solicit money for any of their listings. Google Forum >>
Google will not:
Place recorded sales calls
Request that you update your front-page listing or ask you to claim your free website
Request payment to be included in Google Search or Google My Business
However, according to the Google Forums there have been a few rare phone calls for Google to client, but always from a 650 area code.
Reasons for Google to call you:
If you are working with them on a pay-per-click campaign (very rarely)
When setting up your business account, they can call you with your verification pin (immediately after you click to request code)
If there is a problem with your address or they think the business is closed.
Most of these phone calls are telemarketers that claim to be associated with Google when in fact they are not. Do not give out any sensitive information and do not give them any payment information.
If you are not sure, take down the persons phone number and company name. Odds are, that you will "accidentally" get disconnected.
[divider style="hr-dotted"]
Google Listing Phone Calls:
Another interesting approach is calling your business to tell you that Google has a spot available for your business on page 1 on Google. They make it sound like you are one of the few that has been selected to get this when in fact all they are trying to do is selling you a pay-per-click campaign.
Pay-per-click campaigns
The top 3 spots on Google as well as the right side of the search results are paid listings. These are the results of running a pay-per-click campaign.
After many years with working with search engine marketing companies, we found that most of these companies will set up campaigns for you and charge you the monthly ppc management fee without actually monitoring your account. Unfortunately, that means you could be paying for irrelevant clicks and deplete your budget for no return at all.
A properly set up ppc campaign requires somebody to monitor your campaign weekly or even daily to adjust negative keywords and ads to make sure the clicks you are paying for are getting you the best conversion rate possible.
If you are looking to be on page one on Google, run a ppc with one of the Google Verified Business Partners >>